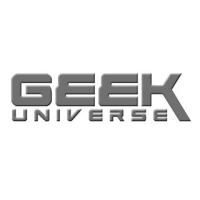 Geek Universe
The 10 Best Gifts Fandom Gave to Us in 2013
2013 was a big year for those of us who call ourselves geeks. Heres a look back at some of the biggest awesome events of 2013:
10. We got season 2 of Korra

9. Season 4 of My Little Pony

Hey, if you don't like Bronies, at least a new season means they have something to focus on.

8. Another new Hobbit movie

Plus amazing behind the scenes footage:

7. Katniss Everdeen caught fire

6. Doctor Who celebrated 50 years

And got not one, but two new Doctors

5. And we got a whole new generation of video game consoles!

4. Khan was reborn

3. Game of Thrones really, really took off

Even my mom is talking about the red wedding.

2. The Attack on Titan anime aired

1. And maybe best of all, we got a brand new, amazing Pokémon game

What happened in your fandom this year? What are you most excited about for 2014?