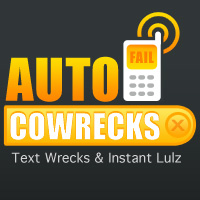 Autocowrecks
Texting the Wrong Number Can Get Awkward Really Fast
Be sure to double check that you have the right number unless you want things to get a little strange...
The Canadian wrong number response.

The dreams of strangers will weird you out.

You'll find people asking for superheroes.

No, seriously. Superheroes. Batman, is that you?

Bae caught me textin'.

A/S/L?

969/M/Israel.

Hey, it was worth a shot.

Synonyms include "happely" and "with admeration."

Don't know how to respond? Why not quote the intro of Bee Movie?

Who

Much wrong number.

Very texting.

Wow so anger.

We can do the business.

Last year? Oh boy...

I hope you're referring to last year as like "just two weeks ago in 2013" last year...

Lionel Ritchie, is that you?

"I can get Dog on the line if you want."

I totally remember!

I hope you mean Coca-Cola.

All this texting is making me hungry.

On the plus side, you can get some pretty sage advice.

Bae caught me cheatin'.

Freakin' Alex, man.