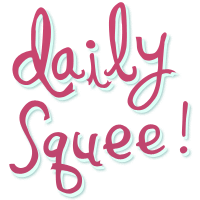 Daily Squee
Super Reasons to Appreciate Squirrels!
It's Squirrel Appreciation Day and what better way to show how much we love this adorably furry rodent than to show you why you should love them too? Here are a few excellent reasons to appreciate this burrowing little buddy!
Number 1 Reason: They're Incredibly Cute!

Squirrels are Always Willing to Share

And Know How to Find a Good Snuggle

They Give Great Advice to Friends

And are Quite the Charming Critters!

Squirrels are Always Looking for a Fun Time

And They Know How to Take Advantage of a Good Photo Op

Don't Forget How Much They Love to Snuggle!

Squirrels Know How to Eat Healthy!

But They Love Their Treats From Time to Time Too!

Squirrels are Sweet, but They Can Intimidate Too!

But They'll Always Look Cute from Tip to Tail!

Did I Mention They're Great Snugglers?