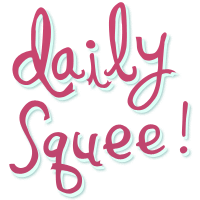 Daily Squee
Animal Mamas and Their Babies Teach You About Snuggling
Who better to show you the squee art of snuggles!
Let's explore some of the different kinds, shall we?
-Sally Squeeps
There are squished snuggles. The closer the better!

And texture is important. The more floof the better!

And don't forget the kisses!

Snuggling can take some practice...

But it doesn't take long to get the hang of it.

You can always try holding hands (or trunks) too.

Snuggling is something all creatures can appreciate.

Snuggles help make you feel safe.

From the day you're born...

Snuggling up on top of mommy is the place to be!