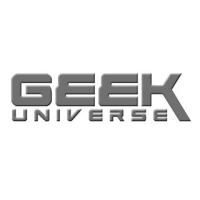 Geek Universe
The Official Cast For Star Wars: Episode VII
Today, the team behind Star Wars: Episode VII released an image of their cast sitting down with Director, J.J. Abrams, and Producer Kathleen Kennedy. This is the first announcement from the team about who we'll be seeing in 2015, but we still have no idea, who they'll be playing.

Let's take a closer look at the cast:
John Boyega

John Boyega is best known for his role on the awesome indie hit Attack the Block. He's also currently filming 24: Live Another Day.

I may be wrong, but I think he'll be playing one of Luke Skywalker's many Expanded Universe Apprentices.

Adam Driver

Adam Driver has been coming up quickly over the past couple of years in a number of critically successful dramatic films including Inside Llewyn Davis, Frances Ha, and Lincoln. You also probably know him from HBO's Girls.

Daisy Ridley

Daisy Ridley is a relative unknown. Having worked mostly on television in the UK (and the upcoming horror movie Scrawl), Star Wars VII will be Daisy's first major motion picture.

Could Daisy and Adam Driver be playing Han and Leia's first born twins Jaina and Jacen Solo?

Oscar Isaac

A veteran actor, Oscar Davis is best known for roles in Drive, Sucker Punch, and Ridley Scott's Robin Hood. He also earned a Golden Globe nomination for playing the title character in last year's Inside Llewyn Davis.

Domhnall Gleeson

An Irish actor best known for playing Bill Weasley in the Harry Potter series of movies, Domhnall Gleeson also starred in last year's romantic, time-traveling movie About Time.

Andy Serkis

Thanks to awesome motion capture technology, Serkis has been Gollum, King Kong and that super smart Chimp from The Planet of the Apes. I bet he'll be playing some sort of digital alien come 2015, and I can't wait.

Max Von Sydow

Max Von Sydow has been making movies since the 1950's. His best include, The Exorcist, Minority Report, and Shutter Island.

If I had to guess, I would bet he's playing a bad guy.

Anthony Daniels, Kenny Baker and Peter Mayhew

The three men behind the most iconic costumed characters are back to reprise their roles. Anthony Daniels as C3PO, Kenny Baker as R2-D2 and Peter Mayhew as Chewbacca.

Who knows how big their roles will be, but I'm glad they'll be back.

Finally, Our Original Three

Mark Hamill, Carrie Fisher and Harrison Ford are back to take on the roles that made their careers. It's time to get your nostalgia on.