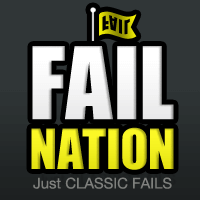 FAIL Nation
Take Some Firework Advice From Those That Have FAILed Before You
Hopefully you have a bucket of water nearby for all the mishaps that are about to go down here with these fireworks screw ups!
Firstly: Keep projectiles as far away from the groin region as possible. Use a broom handle if you must.

You know, keep the fireworks pointed AWAY from the crowd, for instance.

And no matter how great it is, keep fireworks away from what some physiologists call "The Greater Flatulence Region"

Whatever you do, just don't do anything rash like ending your marriage over some sparklers and firecrackers:

Just Avoid Doing Anything These People Did

Let their lessons be yours. Now stay safe and have fun!