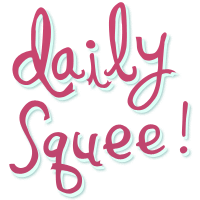 Daily Squee
9 Squeedorable mistakes that will help you feel better about yourself.
-Sally Squeeps
We all make missteps sometimes...

But at least you didn't wander into the wrong home...

Or fall down in front of everyone...

And then keep on rolling...

And afterwards weren't able to get back up again.

Maybe it wasn't even your fault!

It was totally that other guy, right?

He just snuck up on you!

So remember when you're feeling self-conscious, at least no one totally forgot about you...