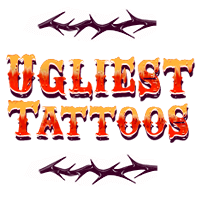 Ugliest Tattoos
"Every Man Dies, Not Every Man Really Lives."
Not every man really lives forever on another man's leg AS A BLUE AND BLOODY SYMBOL OF THE ENDLESS WAR AGAINST BRITISH OPPRESSION. Or something.
Submitter's note: "In my defense, I created offspring with him BEFORE he got his "Mel Gibson as Braveheart" tattoo."