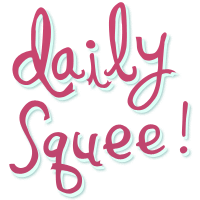 Daily Squee
Cat says: "This is our new puppy Clover, a few days after we brought her home, at eight weeks old. She's grown so much in the last fortnight!"

How big are you going to get, Clover? Just promise us that no matter how big you grow, you'll remember to stay squee!

- Sally Squeeps

Do you have a squee pet that you want to share with the world? Send us your pet pictures and stories, and they could end up on Daily Squee!