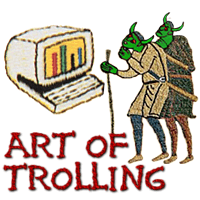 Art of Trolling
Make Me a Sandwich, B***h!
Is the catchphrase of douchey manchildren everywhere who are trying to be edgy. The Tumblr Make Me a Sandwich B*h has started tracking Twitter users who tweet the phrase, and then posting a tweet buried deep in their Twitter accounts to reveal just what kind of people they are.
I don't know, but you obviously haven't done an ounce of it.

The predator becomes the prey.

Mooooooom, stahp!

I wonder why...

Stop being so (Da)rude!

Irony irony irony irony irony.