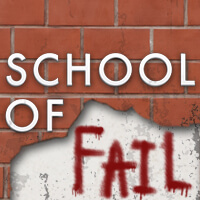 School of Fail
Welcome to hell! Here it is people, FINALS WEEK, your head is on the chopping block and the executioner is sharpening his axe.
Or, OR... you're the 1%, you're fine. You are filled with nothing but knowledge and swagger as you walk to each class.
But lets face it. If you're reading this, that's probably not you. You're sweating, filled with panic and coffee, and spouting more swears than a sailor on your way to class.
So, lets take a look at how it will all go down.
Panic, you become seized by an almost an unreal, gut-wrenching feeling that your world will come to a crashing halt. The task before you seems insurmountable.

---

Advertisement

And, it only gets worse. You begin to catalogue each and every assignment left for you to finish. The world has never looked more bleak.

---

---

Nowhere do you see those questions on the exam.

THAT BASTARD LIED TO YOU!

How can they just stand at the front of class with that damn smile on their face knowing they just kicked you into the desert without any water. THE SADIST!

---

Advertisement

You've wiped the horror from your eyes, and ready your body with more caffeine and sugar than is possible for one human to consume. Essentially your body is the TARDIS.

---

Let's face it, if your caffeine addled mind can retain anything pertaining to your physics exam at this point in the semester it is either incredible luck or a damn miracle.

Teachers and neurologists may tell you to study in moderation and get plenty of sleep, but dammit, you know better.

---

7

5. AGAINST ALL ODDS YOU TRY YOUR BEST

---

Advertisement

Deathbed converts? HA! Try finals week converts, it is SCIENCE FACT that more people become religious during finals week than any other time of the year. Christmas and Easter have nothing on finals week.

---

You look over the first few questions and your heart sinks. The professor gave the class a study guide, but what's this?!

---

10

3. Let the (Hunger) Games Begin!

The professors slap on a smile and wish all of you luck, but you know the outcome of this exam is no longer in your hands.

---

Advertisement

The realization strikes: If you can't be correct at least be funny. It's a last ditch attempt to save your bacon. And, honestly, not a very good one.

---

There's nothing to do now, but forget it all happened. And most of all LEARN NOTHING FROM THIS TERRIBLE EXPERIENCE.