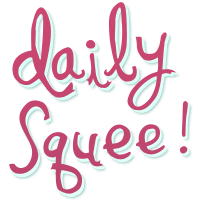 Daily Squee
Reader Squees: Little Bear
Velanthia says: "This is mine and my husband's new Samoyed puppy, Kiska (KEE-skah), looking like a baby polar bear in the snow."
If you hadn't told me, I would have thought someone indeed had a polar bear on a leash. Amazing resemblance!
Do you have a squee pet that you want to share with the world? Send us your pet pictures and stories, and they could end up on Daily Squee!