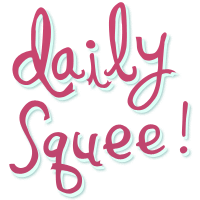 Daily Squee
Grey Wolf says: "This is my OOOOOOOOOOOOLD dog, Buzz Lightyear. He's eighteen-years-old, and still thinks he's young and dapper. The best thing about this is he is (mostly) right."
What a sweet, old dog. Take good care of each other!
-Sally Squeeps
Do you have a squee pet that you want to share with the world? Send us your pet pictures and stories, and they could end up on Daily Squee!