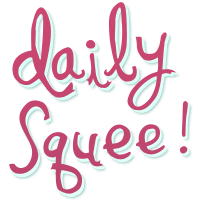 Daily Squee
Reader Squee: Kauvuo the Blizzard Dog
Alexis K. Voltaire says: "He's an old dog (about thirteen-years-old) who's never been in snow before."
Well there's a first time for everything! Thank you for sharing this squee moment with us.
-Sally Squeeps
Do you have a squee pet that you want to share with the world? Send us your pet pictures and stories, and they could end up on Daily Squee!