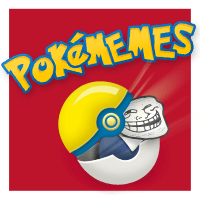 Pokémemes
Some of the best Pokémon gifs from the anime, video games, or the interwebs!
1

Life is No Nintendo Game

SUFFER FROM YOUR LACK OF THUMBS

---

2

Dialga Used Roar of Time!

It's 11AM!

---

3

What's a Clefairy Supposed to Do?

Homer Simpson has some competition.

---

4

I Want to Evolve You So Bad

Deadpool should have never trusted that Magikarp Salesman.

---

At least he didn't self destruct. Just sayin'

---

Professor Oak better have a Full Restore handy.

---

Of course Lavender Town would have the glitch.

---

8

A True Intellectual Conversation

Still smarter than the average internet argument.

---

Have you ever done this? Prepare to feel guilty.

---

10

The Scariest Animation That Can Happen in Pokémon Stadium

We know the answer! We can live in peace now. Diglett is a UFO.

---

11

You Can't Make Me Get Off This Bike!

---

12

If Anyone is Complaining About Gen VI, Show Them This

OH DEER GOD

---

13

Wooper Goes With the Flow

---

Psh... Psyduck who?