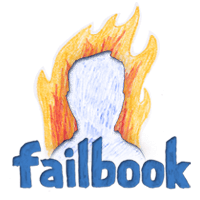 Failbook
You might recognize Craig Mazin from his screenplays. He was the writer of the Hangover sequels and the Melissa McCarthy movie Identity Thief. He's also quickly becoming known as Ted Cruz's freshman roommate from college. Mazin isn't the only person who hates Ted Cruz, there's an entire internet meme accusing Cruz of being the Zodiac killer. But one thing is certain, Craig Mazin hates him the most.
1

Ted Cruz Obviously Left a Lasting Impression on His Freshman Roommate at Princeton

---

Advertisement

2

He Shares Such Fond Memories of the Year He Spend As Cruz's Roommate

---

3

Mazin Isn't Shy About What a Terrible Person He Thinks Cruz Is

And he really, really wants everyone to realize what a dangerous candidate he could be.

---

4

He Is Also Very Good About Answering Questions About His Experience

Sorry Craig, at least you're a successful screenwriter so maybe you could break into the film industry in Canada if you're old college buddy gets elected?