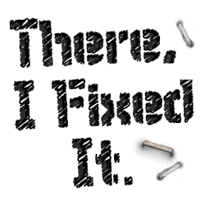 There, I Fixed It
...There I Fixed It will not be publishing new content after this Friday, January 24th.
Starting Saturday the 25th, all of the site's content will be reset entirely randomly each day. If you love makeshift solutions, come back daily to catch posts that you've missed before! Any new jury-rigs will be updated on Americana.
More information can be found at the Cheezburger blog.