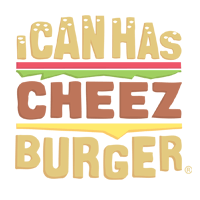 I Can Has Cheezburger?
Vote for Your Favorite Cheezburger Socks!
How are your socks? Black probably, or maybe you have those creepy ones with the individual toes? Well, throw them all away! Better yet, give them to your dog as a gift for National Dog Day today, because we're teaming up with Betabrand to bring you Cheezburger socks!

This is really happening and we need your help! We have six designs and we can't decide on the final three that will be included with each three-pack purchase.

Head here to vote for your favorite designs until September 3.