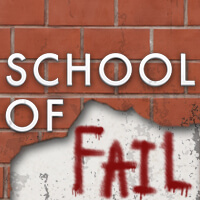 School of Fail
Did Cave Painting Originate in Indonesia, or Possibly Africa?
Via NPR:
Prehistoric cave paintings of animals and human hands in Indonesia are as ancient as similar paintings found in Western Europe, according to a new study that suggests humans may have carried this art tradition with them when they migrated out of Africa.

"Until now, we've always believed that cave painting was part of a suite of complex symbolic behavior that humans invented in Europe," says archaeologist Alistair Pike of the University of Southampton in the United Kingdom. "This is actually showing that it's highly unlikely that the origin of painting caves was in Europe."