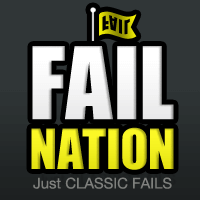 FAIL Nation
Fail of the Day: Man in Gaza Sold an Original Banksy for Just $175
Back in February, world-famous street artist Banksy posted several new pieces in Gaza, including a giant kitten, to try to draw some attention to the region.
His public work tends to be snatched up pretty quickly by people looking to make some serious cash. They can typically be sold to collectors for hundreds of thousands of dollars. His "Mobile Lovers" piece went for more than half a million dollars last year.
One man in Gaza probably wishes he had been told that before he let an original Banksy go for a measly $175.
Rabie Dardouna, who owned the door and rubble which Banksy adorned with a piece called "Bomb Damage" (above), pawned it off to a man named Belal Khaled for just the value of the metal. His house was destroyed during an Israeli attack last year.
"I did not know that it was this valuable. I heard it can be sold for millions," Dardouna told The Guardian. "Now I want the door back."
Khaled claims he only purchased the door to "protect its artistic value" and isn't looking to make money off the deal.
He added that he might one day consider displaying it in a gallery to "speak about the suffering of Gaza and the agonies of war."