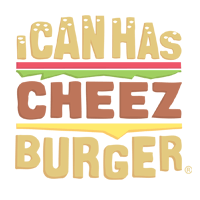 I Can Has Cheezburger?
Some bonds are so special, you wouldn't dream of tearing them apart. That's what happened when Jill Mardesich and her fiancé went into the Anne Arundel County Animal Care and Control in hopes of finding their current cat Penny a new friend.
And while they were there, one cat, in particular, stood out.
1

"I met Lucky Bear. He was born with no eyes, but he is the sweetest cuddly thing I've ever seen," said Jill.

Lucky Bear is a 2-year-old ginger cat, who is a total cuddle-bug. He also has a best friend, named Pumba. Pumba is a 4-month-old kitten, and inseparable from Lucky Bear. The two arrived at the shelter just a month prior to his adoption, their previous owner could no longer provide the care they needed. Their previous owner brought them in, in hopes of giving them a chance at a better life.

---

2

Jill was completely smitten with Lucky Bear, from the first moment she met him. And while cuddling him, Pumba hopped onto her shoulders as if to say "take me home, too."

---

3

How could she resist? Well, she didn't! It was apparently to Jill that the bond between the two was something very special.

---

4

According to Jill, "Pumba is Lucky Bear's seeing eye, guiding him everywhere they go. When the kitten goes to eat, his buddy comes along. Pumba is good at showing him around."

---

5

The two quickly settled into their new home, Lucky Bear, the cat born with no eyes and Pumba, Lucky Bear's eyes. Together, they are complete.

---

6

Jill saids that "everyone seems to be getting along." The two recently adopted cats have been cuddling their humans since they arrived, and love their new sister, Penny.

What a beautiful family! Thank you for giving all of them such a loving home.