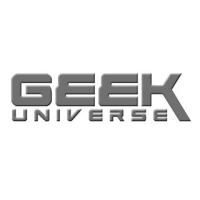 Geek Universe
12 Shows to Binge Watch on Netflix During Winter Storm Hercules
Stuck inside thanks to Hercules? You might want to catch up on some of the best streaming shows on Netflix:
Sherlock (the BBC version)

If you haven't already been sucked in, prepare yourself for the best modern adaptation of Sir Arthur Conan Doyle's classic. There aren't many episodes a season, but each one is long and intense. Plus, a brand new season just started in the UK and premieres later this month in the US. You should be caught up just in time! If you've already watched all of Sherlock, you might want to give Luther a shot. It too is about a borderline psychotic British detective, only this one's got Idris Elba, aka Heimdall from the new Thor movies.

Breaking Bad

Breaking Bad came to an end this year and had everybody talking about it. The short version: the dad from Malcolm in the Middle gets cancer and makes meth to make some money. The long version? Just watch it already, seriously.

Firefly, or any Joss Whedon creation

If you're one of those people who has never been introduced to the Whedonverse, now's the time to start. This guy is often considered to be king of the nerds, and for good reason. If you want a place to start, check out Firefly, Dollhouse, or Buffy. But whatever you do, don't waste your time on Angel, even if you have the hots for David Boreanaz. It's not worth it.

Orange is the New Black

Orange is the New Black is one of those Netflix exclusive series that came out of nowhere and totally dominated the watercooler at work. Season two is on its way, so you better get started on season one soon!

Archer

Take a trip into the "Danger Zone" with everyone's favorite self-centered secret agent as he struggles to deal with global threats, beautiful women, unstable co-workers, and his emotionally distant mother/boss.

MythBusters

Maybe you're in the mood for some science? There are 10 seasons of MythBusters on Netflix. You might even get inspired to bust a few myths of your own!

Anything narrated by David Attenborough

Okay, so you want some real science? Netflix has a bunch of documentary series' narrated by David Attenborough, including The Life of Birds and Blue Planet. Might as well learn a thing or two!

Battlestar Galactica

Battlestar Galactica is a scifi classic. There are two versions on Netflix; the 1978 version and the 2003 remake. We suggest the remake, if for no other reason, because of Caprica Six. Just Google her, we'll wait.

Parks and Recreation

Parks and Rec is one of those shows that if you've never seen and you start watching, you'll realize your friends have been quoting it for years. Just think, you could finally know where that mustached man who's obsessed with bacon is from!

Hercules

You've never seen the Kevin Sorbo version of Hercules? Disappointed! In honor of the name of this winter storm, why not rewatch this classic? Besides, who could resist this:

Yeah, that's Karl Urban as Cupid.

Doctor Who

This show just celebrated 50 years on the air. No, we don't suggest you watch all of it, just start with the 2005 series. Want one episode to see if you can get into it? Go for season one, episode nine: The Empty Child.

The Walking Dead

Zombies and a gorgeous redneck who uses a crossbow? What more could you possibly want? The current season resumes in February, so you better get started now before you're faced with spoilers at every turn.

What shows have you been watching lately? Do you have a favorite must-watch series we missed? Let us know in the comments below!