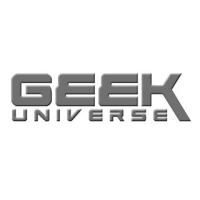 Geek Universe
9 Valentine's Gifts For Geeks That Only The Internet Can Provide

Since Valentine's Day is already upon us, I hope you're prepared, but if you need to get yourself out of trouble or just do some research for next year here is some great geeky gift ideas that only the internet has to offer. Just remember about shipping and handling.
Unicorn Bouquet

There's nothing more traditional than a bouquet of roses on Valentine's Day, but why not get something entirely more magical and long lasting: a dozen plush unicorns? This bouquet is not only adorable, but can be exsanguinated to create a brew that will keep even The Dark Lord alive.

Timelord Valentine

This symbol is not Kryptonian for Hope, no this is a symbol from Gallifrey and it means love. The Doctor gives one of these to his TARDIS every year... Well, maybe he gives two.

Muppet Inspired Glasses Holder

Nothing is cooler than a homemade gift, and just think how adorable it'll be when you learn to crochet. This simple pattern is cute and offers the geek in your life a practical solution for a nightly problem: where do I put my glasses?

His and Her Game of Thrones Tees

Are you one of those infuriating couples who wear matching clothes? Are you also not satisfied with a wedding with less than three deaths? If so, than these shirts are for you. Become a Khal and Khaleesi and drive your enemies before you. *Dragons sold separately*

Moldable Chocolate

Did you just get a boring box of chocolates? Who are you dating, Augustus Gloop? Shake up that tired old gift with this moldable chocolate kit. Design all sorts of awesome things before biting their heads off. Just wash your hands, okay?

Portal Earrings

Does it seem like anything you tell your significant other goes in one ear and out the other? Well obviously, they're thinking with portals and you should feel more honored dating a veteran tester. Show them your appreciation with the only Portal gift on etsy without cakes or companion cubes.

Sherlock OTP Plushies

Nothing in your relationship could ever be as romantic as the slash fic your partner is writing. You better just get them this and hope they don't realize how much better Benedict Cumberbatch is than you.

Grow Your Own 'I Love You' Bean

Mostly, I chose this because I'm on a "Little Shop of Horrors" kick. No matter, with these beans you have an activity you can do together and they're schmaltzy as hell, perfect Valentine's present. More importantly:



Pokemon Trainer's Ring

Make her your Nidoqueen with this Poke Trainer band. Tell her that you choose her with this Created Ruby/Cubic Zirconium ring.