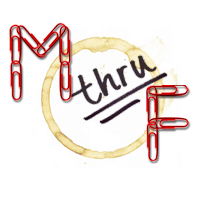 Monday Thru Friday
Tired of Plain, Boring Starbucks Cups?
Starbucks is asking its customers to channel caffeine into creative cup designs, then tweet their masterpieces using the hashtag #WhiteCupContest. The grand prize? Your design sold on a re-usable cup, 25 of the cups, and a $300 Starbucks gift card. Last call for submissions is May 12th.
Others opt for a simpler approach. A classic never goes out of style, whether it's a houndstooth print...

...or a work of art.

Highly appropriate, given that this is how some people feel before their first cup of coffee.

And people have no problem telling Starbucks exactly how they feel.

It's not the internet until this reference has been made.