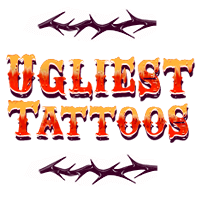 Ugliest Tattoos
I know there's been a lot of change here lately guys, but I'm going to have to lay one last thing on you--all Cheezsites will be getting a makeover.
In a nutshell:
-All changes will be taking place beginning Monday, February 13
-No more voting on the front page. Given the confusion surrounding the vote function here, this is a change for the better. The vote page itself will of course remain intact.
-Less clutter, more fun for everyone. The only buttons you'll see beneath each post will be "Add to Cheezburger Site" and "Share to Facebook," meaning we'll know how much you like something based on how well it's sharing as well as how often it's been favorited.
And one more screenshot for the road: