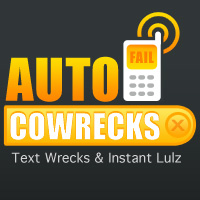 Autocowrecks
This Is One Hundred Percent Real and Is in No Way Fabricated! LOL!
From the autocowrecked:
This simple conversation between my mom and I turned sooo wrrrong :::----)))))
You're leaning heavily on the sarcasm, Andy, but people still like autocowrecks if they're funny. Whether it's fake or not hardly matters.