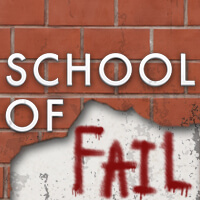 School of Fail
Listen To How Much I Know! LOVE ME.
Greetings School of Fail! I am the new Headmaster of the School of Fail, Dr. Professor Nick, Ph.D, M.D., esq. Now you're probably thinking, "we didn't have an old Headmaster; who the the hell are you, you pretentious jag?" And because I'm the Headmaster I don't have to answer that question because reasons. Class is now officially in session.
--Dr. Prof. Nick, Pd.D, M.D., Esq.