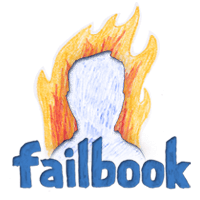 Failbook
Quick impression of Twitter this morning:
"Ah! What a beautiful morning. I'll just roll over and look at my phone. Oh, look at that, TIME picked their person of the year, and it's… Oh, would you look at that? That billionaire reality TV game show host who won the presidency last month is TIME's person of the year? You don't say. Well, back to bed for me for the next four years."
Before our president-elect Tweets out that the Person of the Year honor he won was rigged somehow, enjoy what Twitter had to say. They weren't really sure how to deal with it either.
Check out Twitter's best reactions to the Person of the Year, and enjoy how President-elect Trump has enjoyed TIME in the past:
"as president you need to stand firm and stick to what you believe" pic.twitter.com/m1TymuxHtE

— k e i t h (@KeetPotato) December 7, 2016
---

Advertisement

---

---

---

Advertisement

---

---

---

Advertisement

---