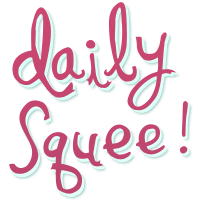 Daily Squee
All these creatures are showing their tongues in the most adorable ways! Try and contain yourself as you peruse these darling little lickers.
---

---

3

Is That Ice Cream? I'm Ready for a Taste!

---

---

Licking frost off the window? Sure squirrel, whatever floats your boat. Just know that you look silly as can be.

---

6

Can We Just Take One Nice One?

---

---

8

This Tapir Wants a Taste

---

You better remember to wash your face or your mom might do it for you...

---

10

You Got a Little Something on Your Nose, Cutie

---

---

---

"You've got a little something in your eye, darling. Here let me get it for you."

---

14

Mooom! You're Embarrassing Me!

It's so embarrassing when your mom decides to clean your face in front of everybody! At least she means well...

---

If you can't say anything nice, don't say anything at all... and then blow a raspberry at the jerk instead.

---

16

Target Acquired: Noms in Sight

The look on your face when you see your family setting the table for dinner, but you aren't allowed to eat any of the mouth-watering noms yet...

---

---

---

This bunny wants to remind you that when stretching it's important to work your *whole* body. It's easy to forget and neglect important squee features like ears and tongue!

---

20

Got a Little Carried Away...