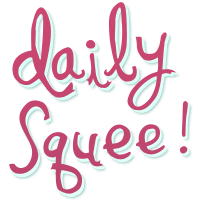 Daily Squee
Is there anything cuter than a baby polar bear? I don't think so. Meet the bear nicknamed "Luna", born last November in New York's Buffalo Zoo. She's growing up to be a big one, but for now she's a adorable little gal.
Source: Zooborns
---

---

Feeding time!

---

---

Cute and playful even.

---

---

Rawr!

---

As she's gotten older she's been able to spend some time in the habitat.

---

And finally, here she is doing what every polar bear pup is born to do: frolic in the snow.