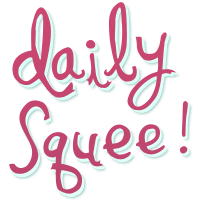 Daily Squee
Reader Squees: Little Noms
Ettenna says: "Our baby Chewy enjoying some dinner. Our brother found him in insulation while working on a house, two weeks old, tiny, weak and dehydrated. After a few close calls, he's doing just fine and terrorizes our four other kitties."
Awwww, your brother is my hero for the day, Ettenna! I'm so glad little Chewy got rescued and healthy thanks to the help of some lovely humans!
Do you have a squee pet that you want to share with the world? Send us your pet pictures and stories, and they could end up on Daily Squee!