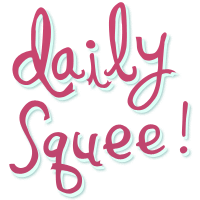 Daily Squee
Reader Squees: Santana Banana
Our submitter says: "This is Santana my beautiful rescue dog. She came from an abusive home but now she has made herself quite comfy in our big backyard and she's even taken over my father's usual seat on the couch."
Everyone deserves a second chance. It's wonderful of your father to give up his seat for someone in need!
Do you have a squee pet that you want to share with the world? Send us your pet pictures and stories, and they could end up on Daily Squee!