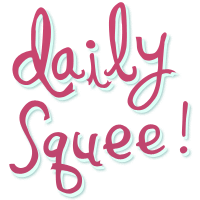 Daily Squee
Reader Squee: Remember to Eat Your Veggies
Carlene Matthews says: "This is a picture of my BunBun Oreo enjoying himself in the garden."

That is good advice, make sure you eat lots of veggies and not too many oreos!

- Sally Squeeps

Do you have a squee pet that you want to share with the world? Send us your pet pictures and stories, and they could end up on Daily Squee!