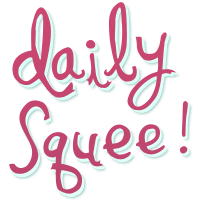 Daily Squee
Reader Squee: Lumpy The Wonder Dog
Hailee says: "Lumpy was dropped out of a car and abandoned in a residential area where she came to sleep in our bare rose bed. We intended on only keeping her until her owners contacted us but no one ever came! Can you believe it? Now she is a certified autism service dog (and bed hog)."
That is a tragic story, but I am so glad it has a happy ending! Also that is wonderful that Lumpy is now able to help others in need; I think many of us are tearing up with heartfelt squees.
-Sally Squeeps
Do you have a squee pet that you want to share with the world? Send us your pet pictures and stories, and they could end up on Daily Squee!