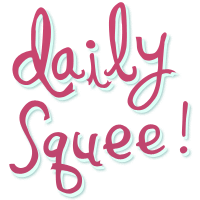 Daily Squee
Holiday Reader Squee: The Bumble
Marilynn Hanson says: "This is Bumble, named after the snow monster from the movie Rudolph the Red Nosed Reindeer. He looks just like him! We use our dogs in many photo shoots, but this is why we don't use our cats!"
I love that movie! Bumble looks shy and fussy, but still very squee.
-Sally Squeeps
Do you have a squee pet that you want to share with the world? Send us your pet pictures and stories, and they could end up on Daily Squee!