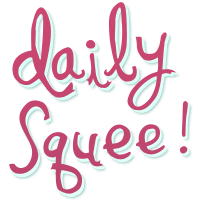 Daily Squee
Reader Squee: My Little Brony?
Hayley says: "My cat Shreddie fell in love with this My Little Pony doll almost a year ago. She still is his favorite toy, especially when an empty laundry basket is around."
Is it possible that your cat Shreddie is a Brony???
-Sally Squeeps
Do you have a squee pet that you want to share with the world? Send us your pet pictures and stories, and they could end up on Daily Squee!