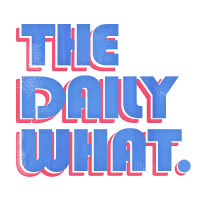 The Daily What
Overreaction of the Day: Fox News Contributor Receives Death Threats After Making Fun of Star Wars
You may remember seeing this video back in October of Fox News hosts poking fun at Star Wars fans who were losing their minds over The Force Awakens. One of the contributors, Katherine Timpf, made a joke that she wasn't familiar with the series because she was "too busy liking cool things and being attractive," and has been receiving death threats ever since.

It was a pretty rude thing to say, but it's certainly nothing anyone should receive death threats over, many of which looked like this:

Guardian978: I want to cut that blonde c***'s face off and stick it to a thermal detonator. What a network full of c***s.

dethklok21: Wow what a f***ing thunder c***. I hope this b**** gets hit by a f***ing car.

Even in the face of rabid death threats, Timpf refuses to apologize: "I'm sick of oversensitive mobs in our overly sensitive society bullying people into saying that they're sorry over jokes — even if the subject of the joke is something as serious as Star Wars. So, for that reason, I will not apologize."


Timpf is still receiving a slew of salty messages over a month later, but she's taking it in stride.