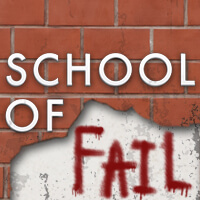 School of Fail
Happy Birthday Léon Foucault!
Today's Google Doodle is in memory of the 19th century scientist Léon Foucault, who helped us show how the world spins.
Jean Bernard Léon Foucault was born in Paris in 1819. While Foucault received a medical education, the profession did not quite suit him. The young doctor is said to have a distaste for bloody medical dissections. But Foucault was brilliant when it came to making models, tools, and devices.
And Foucault's craftsmanship came in handy.
Foucault and a series of teachers, bosses, and partners tackled many scientific questions by building contraptions that could make hard-to-grasp phenomena more tangible. Foucault was able to measure the speed of light. He improved the daguerreotype, an early form of photography. He found a way to prove that light is a wave, not a beam of particles. He named the gyroscope, a stabilizing tool found in everything from toys to the International Space Station.