One of the "most famous lions in Africa", and an ongoing research subject of Oxford University, was hunted and killed illegally by a Minnesotan Dentist in early July and everyone is pissed.

Cecil the lion was the leader of his pride in a Zimbabwean and had been widely publicized to draw attention to the university's studies.

According to The Guardian:


On Tuesday, the Zimbabwe Conservation Task Force said the man thought to have paid $50,000 (£32,000) for the chance to kill Cecil was not a Spaniard as originally believed, but US citizen Walter Palmer, from a small town near Minneapolis. The man left the lion skinned and headless on the outskirts of the park, the ZCTF's Johnny Rodrigues said in a statement.

The hunt took place around 6 July. "They went hunting at night with a spotlight and they spotted Cecil," Rodrigues said. "They tied a dead animal to their vehicle to lure Cecil out of the park and they scented an area about half a kilometre from the park."

The 13-year-old lion was wearing a GPS collar as part of an Oxford University research project that had been running since 1999, making it possible to trace his last movements. Rodrigues said the hunters tried to destroy the collar, but failed.


Here's some Oxford University footage of Cecil in his habitat:


Palmer pictured below on the left with another lion he killed, not Cecil, has received wide spread condemnation from just about everyone.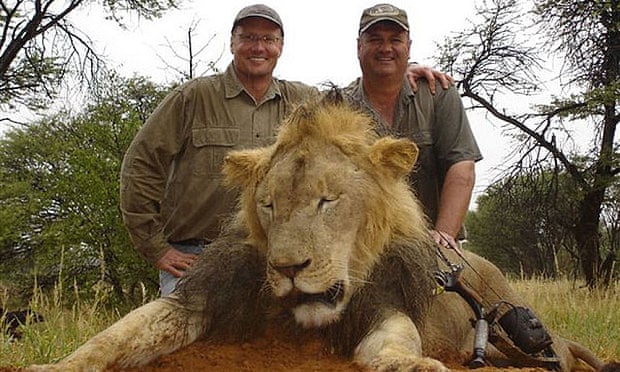 Dental practice belonging to controversial big game hunter Walter Palmer completely locked down. All shades drawn. pic.twitter.com/opvzJp8ea9

— Paul Blume (@PaulBlume_FOX9) July 28, 2015


Palmer's defense is that he simply did not know. That has done nothing to stop the creation of an online petition calling for justice, which has already been signed by almost 70,000 people.

And it hasn't stopped the swarming of protesters and reporters around Palmer's house.




The Guardian goes on to say that, with the removal of Cecil as the pride's leader, another male lion will move in to dominate the pride and likely kill Cecil's cubs.

So, not the happiest of endings.