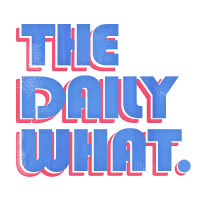 The Daily What
Comeback of the Day: Surge Soda Returns To Shelves
Attention all 90's kids—time is a flat circle.
Surge, the popular soda that has been discontinued since 2003, is now back on store shelves in the United States. Although the beverage has been available online since 2014, today marks the first day customers can hop on down to their local supermarket and pick up the sugary drink.

The company announced the return on Twitter back in August in a larger than life way.
One tweet alone can't do it justice. #SURGEComeback pic.twitter.com/jeyxCvZXw6

— SURGE (@SURGE) August 25, 2015
August 25, 2015
August 25, 2015
August 25, 2015
The big news should be taken with a grain of salt if you don't live in the Midwest, East Coast or the South. Go to the Surge website to see if the drink is in your area.
If you can't get Surge in your area, just watch this ridiculous, stereotypical 90's commercial for the soda. And be jealous. Be very, very jealous.