These high school students gave themselves an 'A', a scarlet one.

Frustrated by the Charleston County School of the Arts' dress code, finding it demeaning and sexist, students decided to take matters into their own hands.

Post and Courier gives the details:


Reese Fischer, a junior creative writing student at the school who helped organize the protest, said she doesn't oppose the dress code. But, based on her experience, faculty members enforce the dress code more strictly against girls than boys, and against heavy-set girls than smaller girls, she said.

"Especially in the summer, you see guys walking around in muscle tank tops with half their sides hanging out and their pants hanging down, and they don't get called out for that," Fischer said. "They don't get called out for wearing a hat, but a girl will get called out for a short skirt in a second."

...School of the Arts' dress code states that "appropriate, decent and non-distracting attire must be worn" and prohibits hats indoors, exposed underwear, bare skin "between upper chest and mid thigh," shoulder straps less than two fingers wide, and clothing that features inflammatory or profane messages. Students who break the dress code can be sent to an administrator's office and told to change into a school-owned T-shirt and sweatpants.


So Fischer put out a call to action on Instagram last week.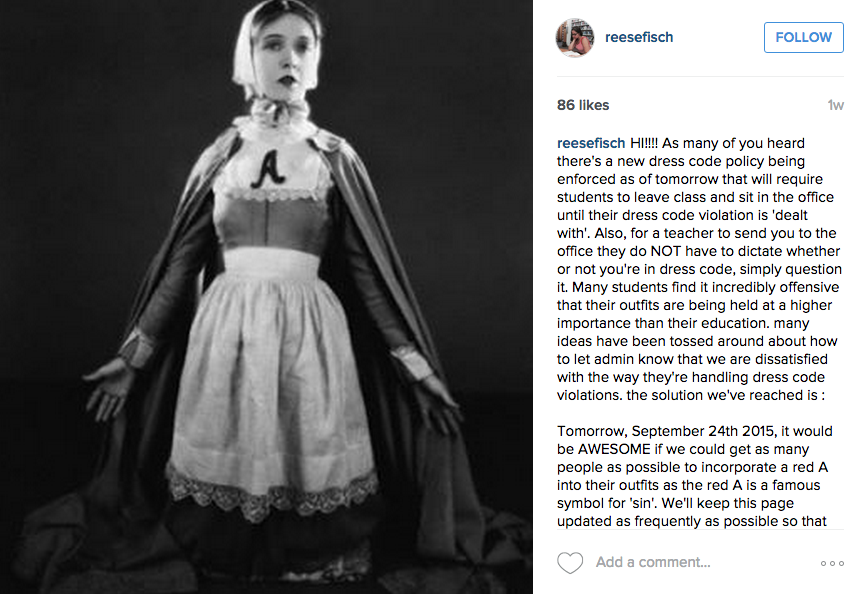 Hi! As many of you heard, there's a new dress code policy being enforced as of tomorrow that will require students to leave class and sit in the office until their dress code violation is 'dealt with'. Also, for a teacher to send you to the office they do not have to dictate whether or not you're in dress code, [they just have to] simply question it. Many students find it incredibly offensive that their outfits are being held at a higher importance than their education. ...

Tomorrow, Sept. 24, it would be awesome if we could get as many people as possible to incorporate a red 'A' into their outfits, as the red 'A' is a famous symbol for 'sin.' We'll keep this page updated as frequently as possible so that the movement is cohesive and effective. Thank you for standing up for what's fair (that everyone should be treated with equal respect).


Post and Courier said the protest went very well.
Fischer said that on the first day of the protest last Thursday, about 100 students — as well as some faculty — wore a homemade red A on their clothing, sometimes as part of a slogan, "Not A Distraction." The red letter A is a reference to the Nathaniel Hawthorne novel "The Scarlet Letter," in which 17th-century Puritans force a young woman to wear the letter after finding her guilty of adultery.


A week in, and students are still adding the letter to their clothes.




Way to find a civil way to stand up for yourself and get your point across!