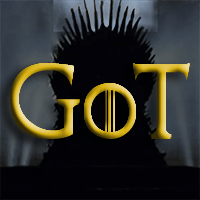 Game of Thrones
To Those We Lost This Season (SPOILERS)
They weren't kidding when they said Valar Morghulis. A round of applause for all your valiant efforts at playing the game of thrones.
Oberyn Martell

We were rooting for you!

The Hound

Sorry Arya left you to suffer.

Dontos Hollard

What a fool he was

Lysa Arryn

Love is an open door.

Joffrey Baratheon

Good riddance to bad rubbish.

Ygritte

Queen of the real North

Jojen Reed

You did good kid. Sorry you weren't supposed to be dead yet.

Pyp

Another for the "not supposed to be dead" club.

Grenn

who shall henceforth be known as Grenn the Giant Slayer

Polliver

Stuck with the pointy end.

Rorge and Biter

Two more for you, Arya Stark

Locke

Thanks for that time you cut off Jaime's hand. But you're still a jerk.

Karl Tanner

Dude you're a creep, but your death was brutal.

Shae

These h*es ain't loyal.

Tywin Lannister

Here lies Tywin Lannister, king of the wrong throne.