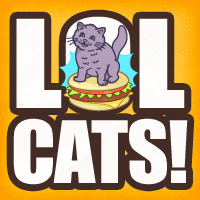 Lolcats
When the snow flies, it's easy for us to be concerned about our furry companions keeping safe and warm in the frigid weather. Here are 10 reasons that prove your pet can survive and thrive in a Winter wonderland.
1

It Isn't the Snow...This is Just How He Walks

---

2

Corgis Don't Get Snowed In...The Snow Just Falls Around Them

---

3

You Think it's Just One Cat...

---

4

Man's Best Friend? More Like Dog's Best Friend!

---

5

When Playtime is Over, It's Time to Warm Up!

---

6

It's Just Where He Left it!

---

7

He'll be Back in a Week With Supplies

---

8

This is Called 'Making the Best of a Slippery Situation'

---

9

Make Snowballs? No, He Throws the Snowballs!

---

10

Why Risk a Car Accident...This is All You Need!