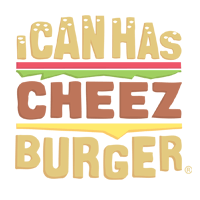 I Can Has Cheezburger?
In the Animal Kingdom, friendship often cross the lines of genus and species and results in some oddball inter-special relationships like the ones below. via: The Wondrous
Dema, a 26-day-old endangered Sumatran Tiger cub cuddles up to 5-month-old female Orangutan, Irma at the 'Taman Safari Indonesia' Animal Hospital in West Java, Indonesia.

---

Koko, the famed 230-pound gorilla who converses in sign language, was known for her affection for her kitten.

---

This hamster should be dinner, not a snake's best friend – and in fact zookeepers offered up Gohan the hamster (whose name means "meal" in Japanese) as a tasty snack when Aochan the snake refused to eat frozen mice. But instead of chowing down, he made a friend. The pair cohabitate in harmony in a cardboard box at the Mutsugoro Okoku zoo in the outskirts of Tokyo.

---

This unlikely pair lives in the Busch Gardens animal park. In a case of cross-species infatuation, Bea, a three-year-old giraffe, and Wilma, an ostrich, share a cuddly moment.

---

Pippo, the tabby cat, has a close encounter with a pet rabbit while strolling in the outskirts of Milan…with a surprise, when he finds out who really is the predator! Curiosity did not kill the cat, but surely scared him this time. Good for him that rabbits do not climb fences.

---

This is one protective adoptive mama. German Dachshund "Bessi", right, guards a five-day-old tiger cub at a zoo in Stroehen, northern Germany. Bessi began nursing the little tiger after it lost its parents.

---

A farm worker holds a piglet and two of the three tiger cubs abandoned by their mother at a zoo in the Ukraine. A pig at a farm in eastern Ukraine agreed to nurse the three little tigers together with a dozen of its own piglets.

---

Now this is love – One of Budapest Zoo's barbary macaques searches for fleas in the fur of a barbary sheep in Budapest, Hungary.

---

A baby hippo named Owen walks along with its "mother," a giant male Aldabran tortoise, at the Mombasa Haller Park in Mombasa, Kenya .The oddest animal couples have stayed together now for one year after they got together after Kenya Wildlife Service. Rangers rescued the baby hippo in the sea off Malindi after the Asian tsumani reached the Kenyan shore and separated the calf from its mother.

---

Owner Steph Tuft, 25, takes duck Essy on a lead for a walk with her Staffordshire cross dogs Rachka and DD in Bournemouth, England. Essy, a nine-month-old Cherry Valley duck thinks she is a dog, and likes to walk with the other two pets.

---

These cross-dressing piglets are just trying to fit in with their new mama. Tourists watch a tigress with piglets at the Sri Racha tiger zoo, in Chonburi province southeast of Bangkok.

---

A mother's love crosses categories: Cora, a two-month-old baby tiger with her adoptive mother, a four-year-old dog. Cora, born in a circus, was rejected by her mother. The adoptive mother feeds the baby tiger as it were one of her puppies.

---

That's bananas! A capybara – one of the world's largest rodents – carries a squirrel monkey on its back at Tobu Zoo.

---

wo-week-old rabbits seem at home with their adopted mother Pooh the cat in Kingston, Ont. Pooh's owner found the rabbits in her garden and brought them home.

---

The cat-rabbit pairing seems to be one that works. Lucky, the cat has nursed and cared for a baby rabbit named Merlin along with her kittens as if it were her own.

---

Llama Java, left, stands by while fellow llama Lilly shares a moment with a rabbit as they are watched by Anna, 11, right, and Deborah Bernstein, both of Brewster, New York, while waiting for the Blessing of the Animals at the Cathedral of St. John the Divine.

---

An 11-week-old African lion cub named Koza and his new companion Cairo, a 3-month-old Italian mastiff puppy, take a moment to relax with their favorite toys after a morning of chasing one another at the San Diego Zoo.