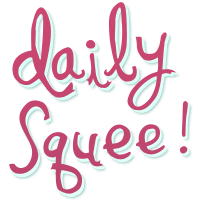 Daily Squee
Reader Squee: Sleeping Beauty
Gabrielle says: "This is the baby teddy bear hamster I got my little sister for Christmas. He fell asleep in my hand!!"
Awww Gabrielle, what a nice big sister you are! Hammys make great pets, and you can take care of him together.
Do you have a squee pet that you want to share with the world? Send us your pet pictures and stories, and they could end up on Daily Squee!