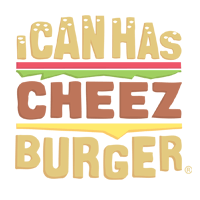 I Can Has Cheezburger?
Pop Culture Kitty Paintings
Artist Katharina Conrad, whose work is featured above, is a talented illustrator who turns the cats of popular culture into cool, colorful art!
Conrad was initially inspired by the story of Frank and Louie, the world's longest-living Janus cat.
From the artist:
I thought to myself that it would be fun to do a painting of him, and then wouldn't it be fun to do a whole series of paintings of cats from my personal life, T.V, movies, the internet, books etc. (basically any cat that I had some kind of emotional attachment to), and then to make some kind of self-published book of them in the end. And I've been working on it ever since.
What are your thoughts? Do you think this is definitive proof that LOLcats are, indeed, art?