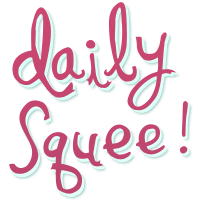 Daily Squee
Reader Squee: Blue-Eyed Trouble Maker
Caitlin Jolin says: "This little Pygmy Goat likes to untie our shoes while we're not looking and is an amazing escape artist."
What a clever goat! Maybe he should become a spy, or a ninja!
-Sally Squeeps
Do you have a squee pet that you want to share with the world? Send us your pet pictures and stories, and they could end up on Daily Squee!