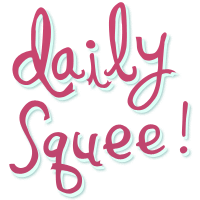 Daily Squee
Reader Squee: Quite the Ham
Arya's_mom says: "This is Arya, my 6-month-old Calico. She's quite the ham when the camera comes out."
Mmmmm ham... Well Arya is way squeer than actual ham! Lovely coloring.
-Sally Squeeps
Do you have a squee pet that you want to share with the world? Send us your pet pictures and stories, and they could end up on Daily Squee!