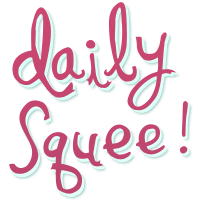 Daily Squee
Jennifer says: "My cat Amber weighed just 3.5 pounds when I found her at two years old. She beat the odds and, as you can see, this is HER chair!"
Amber looks like a big, beautiful cat now! All thanks to her fur-mommy.
-Sally Squeeps
Do you have a squee pet that you want to share with the world? Send us your pet pictures and stories, and they could end up on Daily Squee!