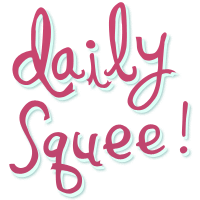 Daily Squee
Reader Squee: I Can Has Acorn!
Cindy Lewis says: "Zipper the Flying Squirrel enjoys the occasional acorn for a treat. Alas, Squirrels do not live by acorns alone, and Zipper gets his healthy vegetables daily!"
What a lucky widdle Squeerel, getting a yummy, balanced diet! I'm so curious, does he fly around your home???
-Sally Squeeps
Do you have a squee pet that you want to share with the world? Send us your pet pictures and stories, and they could end up on Daily Squee!